ATTENTION video starting with earthquake sound !
Presentation of the art-science project "Installing Seismic Risk of Istanbul"
Forecast Forum, Haus der Kulturen der Welt Berlin HKW 2015.
Foto: Marcus Lieberenz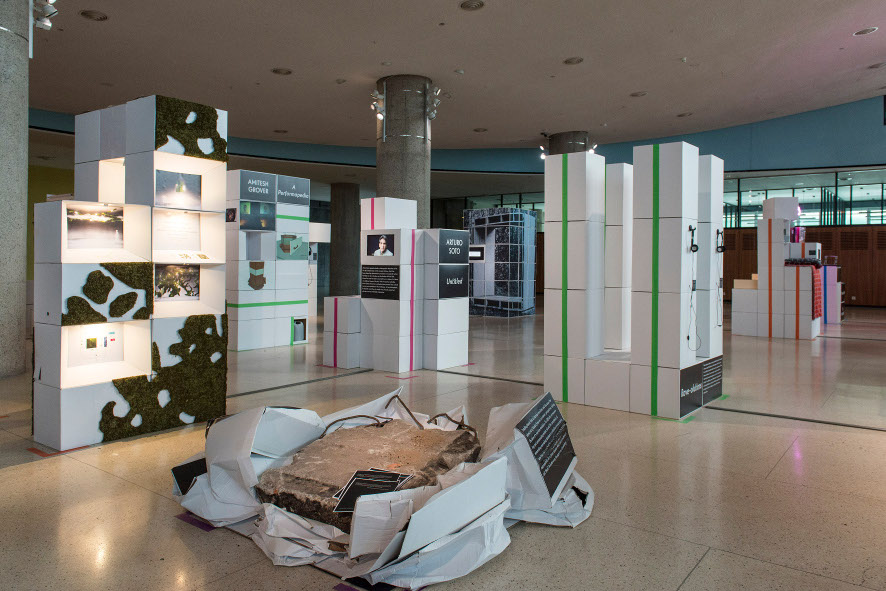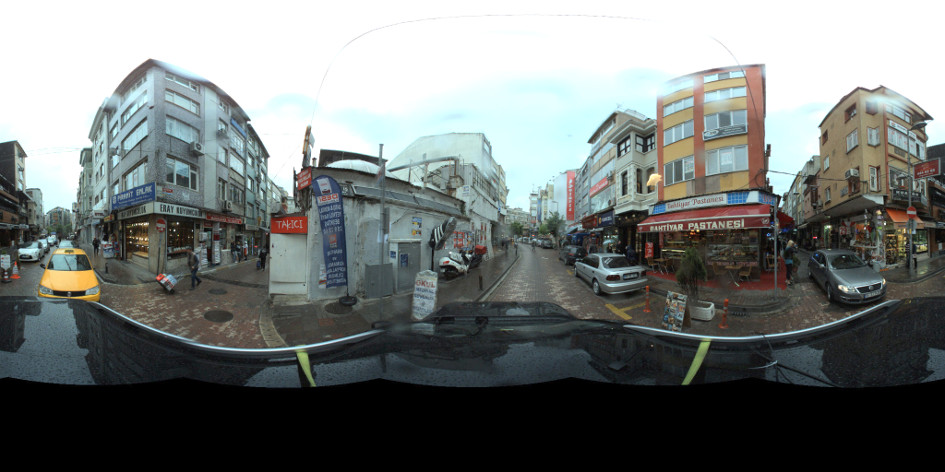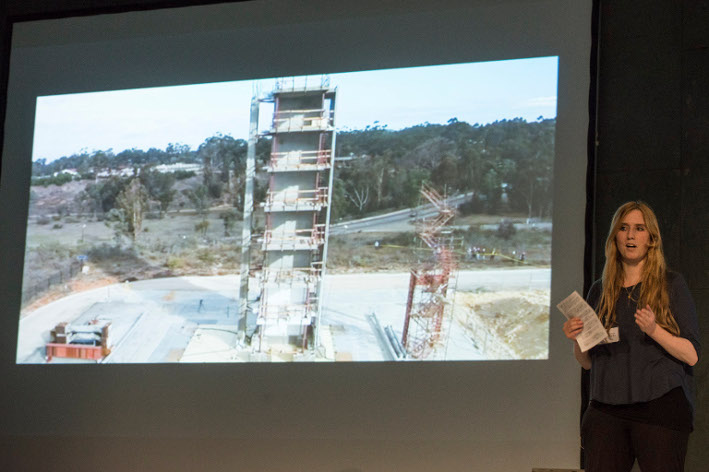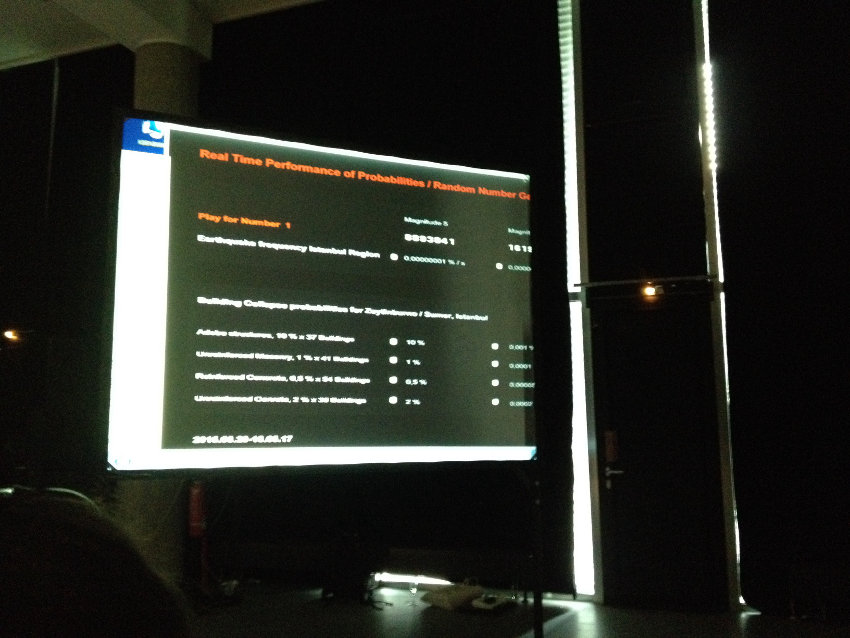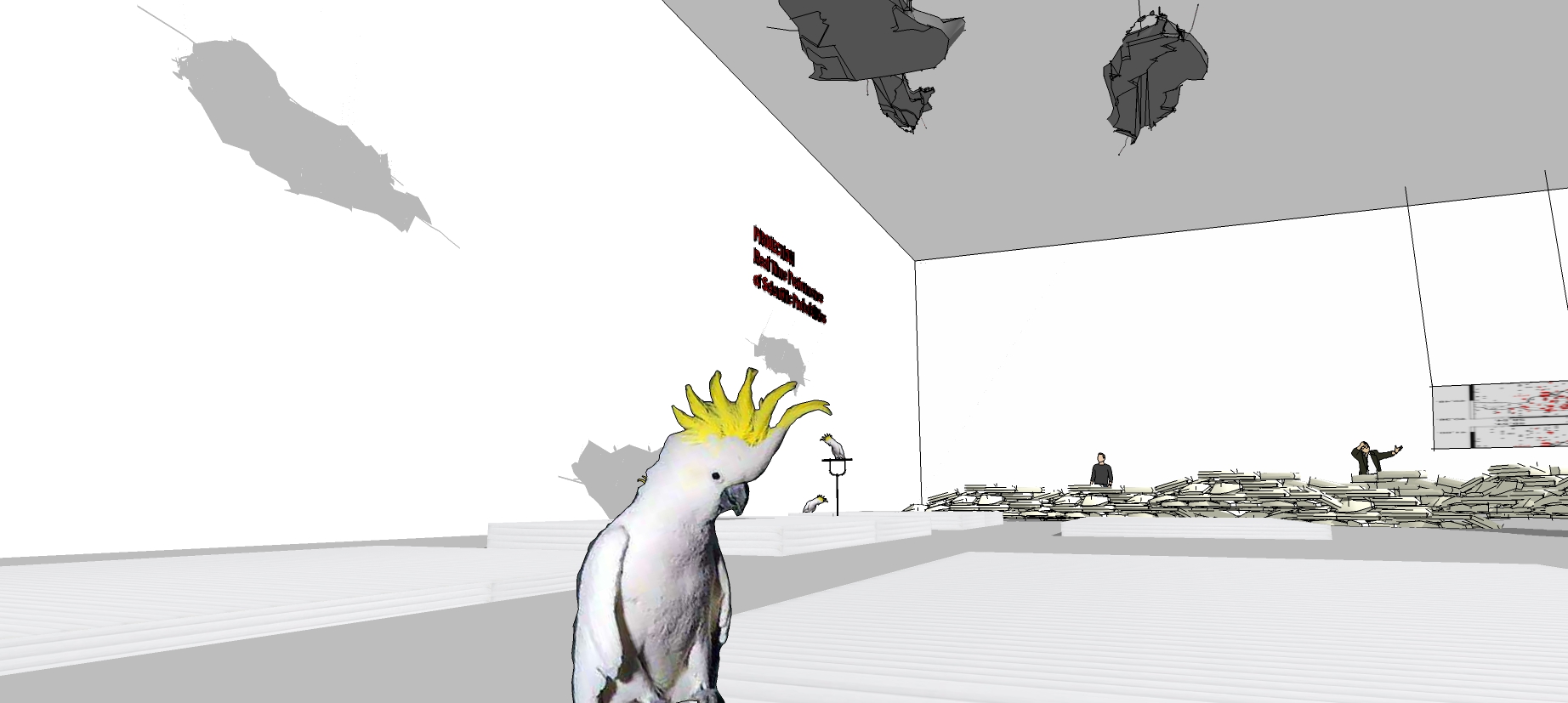 INTRODUCTION: Installing Seismic Risk of Istanbul
Art Project/Installation on the interface between science and art.
As we are living in the age of construction on our planet, earthquakes will in the future have an increasing impact on poorly constructed Megacities. Those Megacities at risk represent not only a local extreme risk of lives. Instead these future disasters can have a global changing impact on politics and societies as seen in the case of Fukushima
In the form of three multi-media installations the project approaches the complexity of contemporary scientific forecasting and its epistemic mode of modelling and calculating future earth and human impacts. It provides insight into knowing and decision making under distinct uncertainties by different actors (facing low probabilities with high consequences). The recent earthquake disasters and in particular the L´Aquila Earthquake Trial in Italy have underlined how crucial it is to adequately address contemporary risks, as the basis and the result of our decisions. The multi-media installations are accompanied by background documentation and reflecting art works.
The project is inspired by the work of Forensic Architecture and enhanced in exchange with the scientists of GFZ.
The project receives support from scientific institutions such as GFZ Helmholtz Centre etc.
Infos Forecast Forum
Website www.installing-seismic-risk.org
In this project the uncertain knowledge of the proper scientific calculations represented by probabilities about future earthquakes and building collapse for Istanbul are brought into performance. The risk in the venue is not produced by a natural environment, but by artefacts and human calculations of reality. With a calculated future and a calculated surprise. This technical environment represents the contemporary condition of risk mainly produced by humans themselves and their calculations and technologies, the basis and the result of our decisions.
The performance embeds also higher level uncertainties of seismic risk. Such as elicitation of expert judgements, integrating their model approaches, argued believes and narrations into the calculation/quantification and perception of the installation. Providing an evaluation of confidence in experts. Uncertain knowledge serving as basis for critical decisions by stakeholders
The project also integrates the historic and cultural role of concrete (RCC framed structure) and its material characteristics in the installation of risk. The modern technology of building construction, based on the new strong material of reinforced cement concrete, is linked to future deadly catastrophes. The installation reflects this ambiguities of reinforced concrete as the material of the architecture of modernity, but also as the most vulnerable material when seismic activity hits the surface of wide-spread unengineered (gecekondu) or faulty concrete constructions.
© Svenja Schüffler